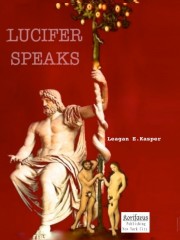 Call him Lucifer, Satan or Beelzebub, he is a goat. A scapegoat, reveals the Devil himself.
New York City, October 11, 2015 (Newswire.com) - ​​The Devil presents his side of the story, personally via rhyming verse, in new epic by author Leagan E. Kasper. "What, I ask you have I done, for many to shun me ?" is the first sentence uttered by Lucifer as he journeys through memory lane finding no evil in shedding light when it's getting too dark.
Once, one of the 13 Judges of the highest court in heaven, he goes against God's decree to destroy earth. Humanity turned vile and shuns the one appointed steward, by the Lord, to look after earth. Man turned away from the Lord, defiling God's creation, causing the light bearer to flee and hide as wandering shepherd of goat. The crown of creation eventually depicted as goat horns to be turned into an evil beast people are told to fear. Known as Satan, the Devil, Beelzebub, Lucifer, he reveals his name is Io'sep the 13th Judge of the court of heaven, the Pharaoh.
This slander, these horrific lies they spread, and soon mankind was bred into believing these deceptive fabrications, which the nations came to repeat ; a strategic feat, with which these sinners secured their seat to lead mankind away from God.

Book Excerpt ' LUCIFER SPEAKS '
Leagan Kasper's " Lucifer Speaks " is an extraordinary read, with a surprise ending in which Lucifer ends his journey by shedding light on the mystery.
Title: Lucifer Speaks
Pages : 53
Price : Paperback $8.99 ( also available as e-book)
Share: